Happy Veterans' Day! Thank you so much to all our the men and women who have helped make this country what it is today. You truly make the United States of America the land of the free and the home of the brave!!
And happy 11/11/11!! Don't you just feel like you should be doing something SUPER cool and fun today?!?!
I found this link on my new friend Brit over @ Our Life is a Jungle and thought it would be a new switch-up for Friday :)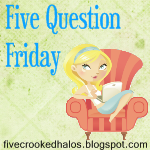 1. What's the last thing you spent too much money on? hmmm. I usually really good at saving money when making purchases... but I would have to say, my new camera??? Ok, it WAS a gift, but it all comes from the same pot, ya know? And, I have to say, although expensive... it's worth every penny!!!!
2. What celeb chef would you want to make you dinner? Rocco DiSpirito. Jason and I became BIG fans of his this spring/summer when his show "Rocco's Dinner Party" aired. We.were.hooked. I also wouldn't mind Gordon Ramsey... as long as he doesn't yell at me, lol.
3. Where do you hide things when visitors pop over or do you let them see the real deal? Listen here peeps, I have a Toddler and a Chocolate Lab... my house is what it is... I mean it's not a disgusting disaster, I try as hard as I possibly can to keep it well maintained, but it's LIVED in each day. And with a 14 month old, I am lucky to have showered, brushed my teeth/hair, and gotten dressed!
4. Who is your oldest living family member? My Pop-Pop, but he does NOT look/act/live like the age he is!! He's awesome :)
5. What is your favorite DQ treat and/or Sonic Drink Combo? Truth is, I do not go to these places. We just got a Sonic here, but in the same Complex is a 5 Guys, and I prefer that much more. So, I can't really answer this :(
Well, there you have it. I have run and pack for our little excursion this weekend! I am pretty pumped to be headed up to Beantown... but I will tell you one thing, I will be squeezing/kissing/hugging/cuddling/loving on my munchkin all day today!!
She thinks she's so tough bc she climbed up on her toy box. lol.
Laying with her brother :)