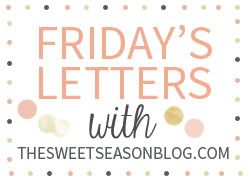 Dear Jason,
I am constantly reminded of why I love you so much. I know that our lives get busy and crazy and sometimes we don't get to say or show it enough, but we both know it is always there. My life is better because of you. ;)
Dear Gwen,
You are some sort of spunky, girlfriend. I am in awe of the personality you have shown lately, and love watching you become your own person. You totally rock. And Momma loves you.
Dear Spring,
I don't believe you're really here. No seriously, Spring is warm. Our weather is not. So, Spring if you're
really
here... prove it.
Dear Easter Bunny,
Don't be offended, but I don't think we are coming to visit you this year... but you are more than welcome to stop by our house. Sorry. We love you though.
Dear Jennifer,
I am so excited to share this weekend with you. Your shower is just the beginning of your wedding festivities, but my advice is to take it all in. Embrace it. You'll never have another bridal shower, so let it be allllll about you. Love you and see you Sunday.
*****
Happy Friday. I'm off to make myself a well deserved SkinnyGirl Margarita! :)