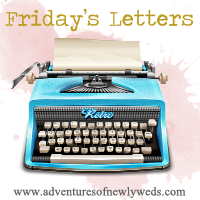 Dear Family,
I could not be more proud of how close and supportive we have been of each other. We lost such a huge part of our family, and not one bit of it has been easy, but we have been there for each other in the most amazing way.
Dear Friends, Extended Family, and Others for their thoughts and prayers,
Thank you, they are much needed and appreciated. xo
Dear Gwen,
I am so happy that you got to know your Pop-Pop so well before he passed. He loved you so much, and I will make sure to tell you all the stories I can about him.
Dear Jason,
Oh, my rock... I could not have gotten through the past few days without you. Thank you for all of your love and support. Pop loved you like one of his own. I love you. a lot. ;)
Dear Mom,
Thank you for the good care that you have given to Mam-Mom and Pop during this rough time. Although we may not all say it, we are extremely grateful to you. Love you.
Dear Mam-Mom,
My sweet Mam-Mom, I am so sorry for your loss. You and Pop showed us all what True Love really is. I can't imagine how heavy your heart is, because I know how heavy mine is. I hope that time will heal us all. I hate to see you go, and eagerly await your return. I love you so so much and hope that you have a safe trip home. I know that your funny face guardian angel will be watching over your ever step.
Dear Pop,
It hurt so much bringing you to your final resting place... it made everything so final. I miss you more than words can express. There isn't anything any of us wouldn't do for one more hug, smile, kiss, or laugh. Visit us in our dreams, maybe we can take a car ride? I love you.
This is a poem that my Aunt Deb wrote the day Pop passed away. It is truly beautiful... enjoy.
Shocking news and harsh reality
Brought us to this place of inevitability
And so we gathered like never before
And we broke open our thoughts and our hearts
And shed it all- right down to the core
Something happened this day
And as we were told to do, we said goodbye
Before he boarded his last plane
And took off into the sky
With painful anticipation
We waited and prayed with want for him to fulfill his dream
Of coming back home to die among family in peace
Something happened this day
We were overcome with happiness to see
He survived the flight with tremendous hunger
For -go figure- baked ziti
Our joy was confusing because we already knew
How this story was very soon to conclude
Something happened this day
And so we settled him in to his ending care
Learning to accept this final way
Adjusting from monitoring everything
To simply keeping him peaceful and without pain
Something happened this day
We learned how to visit and how to respect each persons walk
We learned how to put on a smile
And listen to him struggle to talk
We witnessed him keep his word and honor his wife one last time
As he arranged for us to gather for her
Something happened this day
And as the last goal was met
And he felt fulfilled and achieved
We could see the looming sunset just beyond the trees
We continued to support as each of us knew how
Something happened this day
I woke up this morning to receive the call
That this husband, father, grandfather, uncle, brother, and friend
I questioned what's left?
What will fill the hole in our hearts?
Then I realized it's already begun
We have merged all of our memories and combined them as one
This man was like no other
He'd probably say... "I am what I am and if you don't like it that's just too bad"
A loving husband, Pop-Pop, uncle, brother, and dad.
Something happened... and we are forever changed.
Yes, we are FOREVER changed. We love you.